A "big bench" has also arrived in the Sala Monferrato!
It is a bench of Large size positioned in a lookout point, which has the intention to bring us back to the size of when we were children and we saw the world with wonder, in another point of view. Once you sit on one of them you live an intense experience, to share with others. Benches are made to relax, and unlike a chair or armchair, they are wide enough to accommodate more friends at the same time.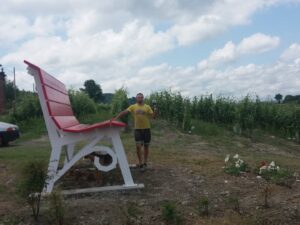 The project was born a few years ago by an American who, having moved to the Langhe, decided to spread this idea. In a short time has achieved great success in the territories of Langhe and Roero before, and now begins to be appreciated also in Monferrato, where for the moment there are only two big bench: one in Rosignano Monferrato, and one in Sala Monferrato, inaugurated Sunday, May 20 in Area near the church of San Grato, just adjacent to one of our vineyards.
It is a construction that is not easy to implement and must comply with the mandatory parameters to be able to see the light, such as the presentation of specific drawings, a car park near the area, an area that has certain proportions and above all the Presence of a great panoramic view at 360 degrees, definitely decisive element for the success or not of the work.
A Sala, 50th Unesco site in Italy, all these requirements have been met and even the small but dynamic country Monferrato can benefit from his bench, second in Monferrato, fourth in the Province of Alexandria and 48th in the Circle of association Who designed the Big Bench project.
"This is an important work for our country, made in just 11 days, thanks to the contribution of citizens who have worked hard day and night to allow you to have all this," said Mayor Claudio Saletta, who inaugurated Officially the opera this morning at 12 o'clock with the ribbon cut.
We invite you to come for a walk in this area, where in the end you can comfortably enjoy the company in front of a landscape that will leave you open-mouthed.