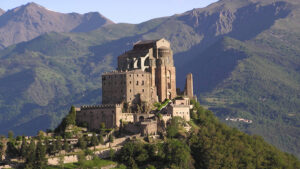 The Piedmontese wine has reached internationally recognized qualitative summits in the last 30 years. The vine that best expressed the potential of these territories is Nebbiolo, declined in different denominations from the north to the south of the region. But also other indigenous vines such as Barbera, Dolcetto and Moscato Bianco find their happiest expression here.
Piedmont, the second most extensive region of Italy after Sicily, is one of the most varied in terms of climate and geography. The main hilly system, whose wine-growing landscape has been recently awarded the Unesco Protection, is constituted by Langhe, Roero and Monferrato, located in the southern and eastern part of the region. To the north we find the other large hilly area, composed of Canavese, coasts of Sesia and Colli Novaresi.
The Langhe stretches south of Turin and east of Cuneo, in the area between the right bank of the river Tanaro and the Alpes Maritimes. They are made up of ancient clayey and compact hills, which here take the name of "Bricchi". The hard and unpermeable soils give Nebbiolo grapes great complexity, structure and ageing capacity. The most important center is Alba.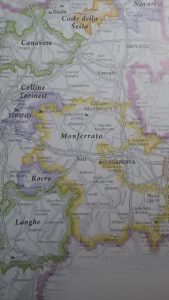 The Roero, from the most varied and at times still wild, especially in the area of the fortresses (a long canyon that cuts diagonally across the entire territory), occupies instead the left area of the Tanaro, with predominantly Sandy hills, smaller and Steep compared to the Langa. From here are born elegant and fine wines, less complex and long-lived than those of Barbaresco and Barolo.
The Monferrato, between the three, is the most extensive wine-growing territory. From the lower hills, sweet and wavy, it occupies most of the province of Asti, going to the Alexandrian, where it continues in the Colli Tortonesi. From here you can get the famous Moscato d'asti, exported all over the world, and you will obtain Barbera of a structure and complexity comparable to the great misty of the Langhe. Casale Monferrato, capital of the old Marquisate of Monferrato, is still the centre of reference for all the Monferrini.
To date, the great Piedmontese wines remain the most rewarded and coveted Italian wines abroad, often overcoming even the acclaimed Tuscan ones. Alongside mythical wines such as Barolo and Barbaresco, Piedmont, as already said, offers exquisite autochthonous wines, even cheaper, such as Barbere d'asti, nice and Alba, Dolcetto, Grignolino, Freisa, Arneis, Erbaluce, Gavi. Valid results have been in recent years with international wines such as Chardonnay, Merlot. Whites represent one third of the total production and their quality is growing steadily, in the foreground with the production of sweet wines such as Moscato and Asti Spumante. From the 47,000 hectares of Piedmontese vineyards each year around 350 million of bottles are used. The value of one hectare of Barolo, in the most important areas, exceeds by now the million euro.