In the previous article we saw the first phase of the winemaking process: alcoholic fermentation. Let us now see the two main winemaking methods: in red and white.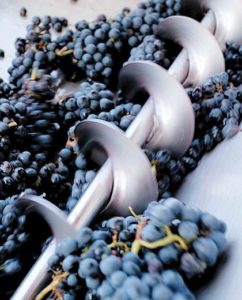 Usually, for the production of red wines, the crushing is carried out with destemmed, with machines that break the berries without tearing the peel and without crushing the grape seeds, and separating the stalks from the mass of the pressed. The stripping limits the divestiture of tannic substances (abundant in the RASPO), avoiding the herbaceous flavour with a bitter bottom that requires very long time to attenuate. The grapes are then transformed into the intermediate product: the must. This is pumped into tanks, where fermentation takes place, which can be of steel, wood, cement or fiberglass.
The specific DellFermentation in red is that the must remains in contact with the skins. This phase, called Maceration, it is very important: it is during it that the dissolution of polyphenolic substances (tannins, anthocyanins…) and aromatic compounds concentrated in the peel and in the grape seeds. It can be more or less long depending on the type of wine you want to get. Short macerations (4-6 days) give fresh, fruity wines, not very rich in colour and tannins (which are natural preservatives, antioxidants), to drink young. From longer macerations, which can last even 20-30 days, are wines much richer in colour, tannins and extract, destined for long ageing.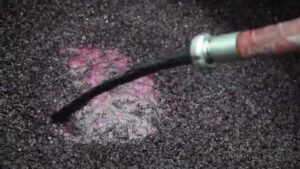 During the fermentation in red the mass of the skins and the grape seeds (the grape Marc) comes to the surface as a result of the carbon dioxide, forming the so-called hat. The contact of the hat with the air can trigger processes of oxidation and acetification; It is therefore necessary to perform frequent replacements, in which the hat breaks through jets of must, in order to keep the Marc Moist. This very important operation also favours the extraction of the skins of colour and the diffusion of yeasts.
At the end of the fermentation we proceed to the racking, that is the separation of the wine from the Marc, which are then subjected to a twist to extract the wine still contained in them. This, which once was carried out by means of presses, is now carried out with more modern equipments, such as press (the most modern ones are pneumatic).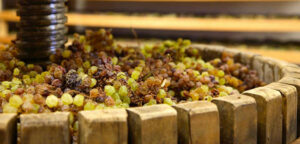 To obtain white wines from white grapes (or even from red grapes!), it is necessary to separate immediately, after pressing, the must from the skins and the seeds: you will have so wines with fine perfumes, fruity, fresh and delicate taste, with very little presence of tannins.